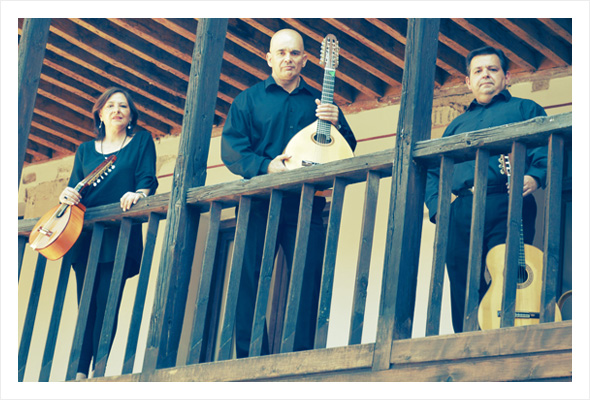 The Trío Assai: Araceli Yustas, Jaime del Amo y Javier García.
INTRODUCTION
Trio Assai was established in 1997 to show to the public the possibilities of the Spanish plectrum instruments.

With the guitar (ideal partner for them) the bandurria and the spanish tenor lute, form a trio with a rich possibilities, sound, expressive and technical.


About the bandurria

The string instrument of more ancient lineage and nobler lineage is the bandurria. The piano has little more than two hundred existence years, the violin does not have five hundred, the guitar would have three thousand, but the bandurria as more than four millennia!"

Juan José Rey (musicologist)
BIOGRAPHY
The Trio Assai was constituted for promoting of the plectrum instruments and show their usually unknown possibilities. The instruments of the bandurria family (similar instruments to the mandolin) are usually only known as popular instruments.

The bandurria and the spanish tenor lute, together with the guitar form a classic trio with surprising musical possibilities.
Trio Assai has participated in recognized plectrum and classical music festivals around of all over national Spanish geography and in Italy, Israel, USA, Cuba, Venezuela, Portugal, Belgium, France, Russia, Germany, Bulgaria, Libya, Finland, Norway, etc.

They have played in the "Casino de Madrid", Borja´s Palace (Gandía), Royal Palace (Aranjuez), Ateneo de Madrid, Cerralbo Museum, Nactional Arqueologic Museum, National Fine Arts Museum, Sorolla Museum, Clásicos en Verano Festival, Clásicos en la Frontera International Festival, Fine Arts Palace from La Habana, Radio Clásica (Spanish National Radio) and in several Culturals Centers of the Community from Madrid and they have colaborated with entities as the Fundación Colegio del Rey, Juventudes Musicales from Alcalá de Henares, Patrimonio Nacional and in the Cultural Events of the bank CajaMadrid

They have organized together with Alcala University and the Colegio del Rey Fundation several Concerts of Plectrum Music together recognized musicians as the mandolin players Ugo Orlandi (Italy), Mathieu Sharte (France), Ricardo Sandoval (Venezuela), Steffen Trekel (Germany), Alon Sariel (Israel), Jacob Reuven (Israel), the guitarist Michael Troester (Germany), Tamara Volskaya (Russia), considerate currently as the most relevant figures at international level of the plectrum music.

They have often been playing in several Cultural Centers from Madrid and colaborating with entities as Colegio del Rey Fundation, Patrimonio Nacional, Círculo de Bellas Artes, Consejería de las Artes de la Comunidad de Madrid, Juventudes Musicales, and the cultural activities of the Caja Madrid Bank.

They have recorded three CDs, the first cd in 1999 with the title of "Opera Prima", registering Spanish authors from the Renaissance until the present time, in 2004 the second cd about Albéniz and Granados and in 2008 a cd about south American music titled "Milonga del Angel".
REPERTOIRE
The repertoire of the Trio Assai is from the Renaissance and Middle Ages until the contemporary music, being centered in the interpretation of the Spanish Nationalism music. Antonio Soler, Alonso de Mudarra, Juan del Encina, Gaspar Sanz, Ernesto Halffter, Enrique Granados, Isaac Albéniz, Manuel de Falla y Joaquín Turina among other composers, are part of their concert programs, as well as original works written for their instruments like Angel Barrios and guitar player Jose Luis Martinez.



Their repertoire include an exciting program of SouthAmerican classical music with compositions of Leo Brower, Hernesto Nazareth, Heitor Villa-Lobos, Efraín Amador, Celso machado, Astor Piazzolla, Carlos Gardel, etc.




They recently released a program titled "Cinema Classics" with a selection of musical works universally known in the film world, proposing a tour of those tunes that have moved in the shadows of the projection room of the hand authors like Leonard Bernstein, Nino Rota, Carlos Gardel, Scott Joplin, Anton Karas, Henry Mancini, Charles Chaplin, etc and movies like Life is Beautiful, The Wizard of Oz, Essence of Woman, Tango, The Third Man, the Hunter, the Sting, Amelie, Forrest Gump, Breakfast at Tiffany's, The Godfather, etc.. All of them masterpieces of the "seventh art" that have made us experience intense emotions.



PLECTRUM FESTIVALS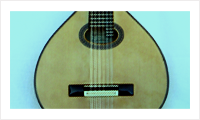 • XXXI Festival Internacional de plectro de La Rioja
• II Festival Nacional "Ciudad de Baza", (Granada)
• II Festival Internacional en la Cuna de Cervantes, (Alcalá de H.)
• II Jornadas Musicales de Fuentesaúco, (Segovia)
• I Jornadas Musicales de Casasimarro, (Cuenca)
• X Festival Internacional "Ciudad de Cristal", (La Coruña)
• V Muestra Nacional de Plectro "Ciudad de Valladolid"
• Trobada Llaudística´2004, San Joan Despí (Barcelona)
• II Festival Internazionale Citta´di Varazze (Italia)
• I Plectrum Instruments Festival of Beer-Sheva (Israel)
• Providence International Mandolin Festival (EEUU)
• Festival Internacional Plectro Habana 2003 (Cuba)
• XI Ciclo "La Mandolina a través del Tiempo" (Venezuela)
• VII Encontro Musical de Cordas de Esmoriz (Portugal)
• V Mandopolis Festival de Puget-Teniers (Francia)
• I International Folk Festival "INTERFOLK" St.Petersburgo (Rusia)
• XXIII Haapavesi Folk Music FEstival (Finlandia)

MOST IMPORTANTS CONCERTS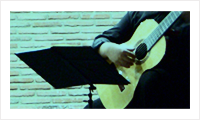 • Cerralbo Museum
• National Arqueologic Museum
• Fine Arts Museum
• Art National Museum (Mérida)
• Sorolla Museum
• Ateneo from Madrid
• National Spanish Radio
• Borja´s Palace (Gandía)
• Casino from Madrid
• Royal Palace from Aranjuez
• Palacio de Bellas Artes de La Habana
• Clásicos en Verano Festival (Madrid)
• Ribagorza´s Festival (Huesca)
• Musique a la Source Festival (Bélgica)
• Muestra Hispano-Italiana de Plectro
• Muestra Hispano-Alemana de Plectro
• Muestra Hispano-Rusa de Plectro
• Muestra Hispano-Francesa de Plectro
• Muestra Hispano-Venezolana de Plectro
• Muestra Hispano-Búlgara de Plectro
• Muestra Hispano-Israelí de Plectro
COMPONENTS
ARACELI YUSTAS (bandurria)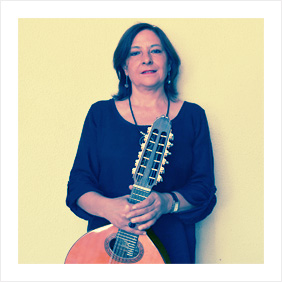 Began his studies with the master Manuel Grandío. Later he recognized this title in the Conservatorio Superior de Música del Liceo de Barcelona, where he was graduate as superior teacher. He has formed part of "Orquesta Gaspar Sanz" from Madrid, "Quinteto Manuel Grandío", "Orquesta Roberto Grandío", of the one which he was found and recordered and recorded three Long play, one of those was national premium of the "Culture Ministry", and he played all over Spain in the most prestigious concerts rooms (National Auditory, Palau de la música, Circulo de bellas artes, etc.) as well as in tours by Morocco, United States and Canada.
He has colaborated with the Spanish National Orchestra, Spanish Television Española, the Russian National orchestra and the Chamartín Sinphonic Orchestra, conducted by prestigious master as Gandulf, Rozhdestvensky, Halffter, García navarro, etc.
With Carlos Jiménez Arévalo he created the hyphen of "Trémolo", a program for "Radio Clásica" of RNE (Spanish National Radio), devoted to the plectrum instruments.
Currently form bandurria and guitar duo with María José Valverde and with guitar player René Mora, performing numerous concerts all over Spain and Argentina, recovering the barroque bandurria in concert. He is member of "Ensemble Cibeles" and they promotes performances of music and theater, mostly related to Madrid, which he has played in the Cervantes House Museum, National Fine Arts Museum, Sorolla Museum, etc..
JAIME DEL AMO (Tenor lute)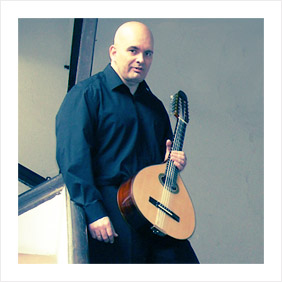 He has studied in the Real Conservatory from Madrid, in Campo de Criptana Conservatory (Ciudad Real City) and Arganda del Rey Conservatory, where he was graduated as plectrum instruments teacher with highest qualification.
He began his plectrum studies with José Ramón García, member of this trio, continuing them with Caridad Simón and jose maria Villafranca.
He take part in master classes of lute and mandolin organized in Logroño conducted by Pedro Chamorro and Ugo Orlandi.
Take a part of a course of Medieval Plectrum Instruments (citole, spanish medieval lute and medieval guitar), conducted by Jose Luis Pastor and organized by the Old Music Festival from Gijón, Old Music Festival from Aracena and the societies of the vihuela and the lute.
Has been member of the group Spanish lutes "Gaspar Sanz" and of "Tablatura Orchestra", with the one which has colaborates during 10 years, playing in the most importants national plectrum festivals and in Baden-Baden (Germany) and Santarem (Portugal).
He has collaborated several times with the orchestra of the Opera of the Royal Theater from Madrid and as soloist with the Chamartin Symphony Orchestra in the Spanish National Auditorium.
Courrently is member of the Altisidora Group from Campo de Criptana (Ciudad Real), with which he has performed concerts throughout the Spanish territory and Belgium.
p>
JAVIER GARCÍA (guitar)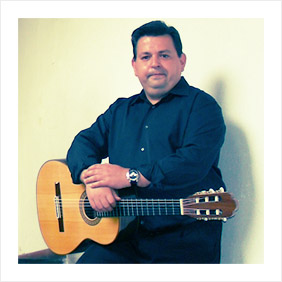 He has studied in the Real Conservatory from Madrid and his guitar studies with Manuel Rodriguez an later further studies with Maria Jose Valverde Sanz.
He has been member of the "Schola Cantorum" from Alcala de Henares, which has traveled throughout all over the national territory as well as various European countries (Italy, Portugal, France, etc).
has been a founding member of the "Tablatura Plectrum Orchestra", conducted by Adolfo Prado, which has participated in the most important plectrum national festivals (International Plectrum Festival from Logroño, plectrum Festival from la Coruña, Plectrum Festival from Vilareal, Festival of Plucked instruments from Aranjuez, Plectrum Orchestra Meeting from Cájar-Granada, etc.) and international (Plectrum Orchestra Meeting from Santarem, Portugal and Music Festival in Baden-Baden (Germany) where they were selected from over one hundred groups to participate in the closing of the festival.
Currently he is a member of the Chamber Choir of "Duque de Calabria" from Alcala de Henares, under the direction of Amaro González de Mesa, who works as a tenor, with the guitar and Baroque guitar. p>